Bestel boeken
Terug naar boeken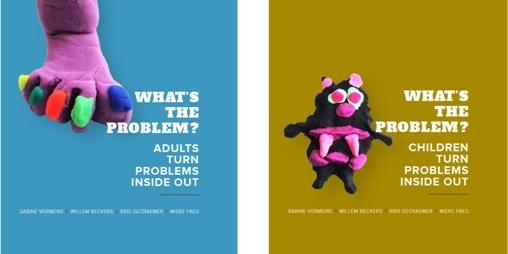 What's the problem? Adults/children turn problems inside out
Sabine Vermeire, Willem Beckers, Kris Decraemer, Mieke Faes (red.)
2015
Can I introduce to you: The stressmonster and The Eccentric!
The stressmonster appears at once. Mostly when Rosie (9 year) has lost something or when the quarrels at home become really problematic. It has real vampire teeth. So it can easily bite and produce stress.
Inspired by Michael White's quote 'The problem is the problem, not the person', we together with children and adults externalised and visualised their problems and investigated what they mean to them. It became a multi-coloured collection of difficulties, worries, dilemmas an obstacles in clay, in drawings, cartoons and other creative outings.
Monsieur Anger, The tear monster, The black box, The invasive weed of addiction, The wall of ideals, Loss hurts and so many others came on our table.
Step by step, the knowledge, skills and wisdom that children and adults developed to deal with these problems became visible. We decided to bring together their creative externalisations in a small book as witnesses of their efforts and as an inspiration for social workers, teachers, psychologists and therapists, clients and all those who are curious.
Maybe you also have a problem that turns your life upside down or maybe you speak with clients whose life is dictated by problems… In that case, this book has your name written on it!


Order this book
Fee:
Belgium: € 15 + € 6,95 shipping costs
Europe: € 15 + € 11 shipping costs
United Kingdom: € 26,00 shipping costs
Please fill out the form below and transfer the correct amount
(! please note shipping costs to Belgium and Europe/United Kingdom differ) to our account BE87 0015 1180 2994 (BIC-CODE: GEBABEBB)
to Interactie-Academie
After receiving the completed form and your payment the book will be send to you as soon as possible.